File My Fractures, Fears, Frustrations, and Failures Under Freedom
No one heads out to the train for work at 6:25 in the morning wondering if they're gonna have the worst fracture imaginable.
'Unsuspecting me' headed toward a job that did not like me.
The feeling was mutual. (Learn from 'unsuspecting me.')
Never broke a bone in my life.
Life inserted a 'first broken bone' bookmark.
The diabolic reality of that moment encapsulated by levels of agony that I'd gladly retro-blanket with amnesia if I could.
After a hellish wait for the ambulance, the arriving paramedics cut through the sock of a foot facing the wrong way around to find my bone hanging out. They determined that I'd need "HEMS evac" (Helicopter Emergency Medical Services evacuation) due to the high infection risk multiplying by the minute.
Having worked in a Bone Infection Unit as well as in Trauma and Orthopedics gave me freakishly clear trajectory insights. So, for all those anonymous patients who I've told, "Trust me, knowing what medical interventions are about to happen since we're healthcare professionals doesn't make it any easier—actually makes it worse cuz we KNOW what's gonna be done," here's concrete evidence for ya.
I even knew what procedure the surgeon would perform.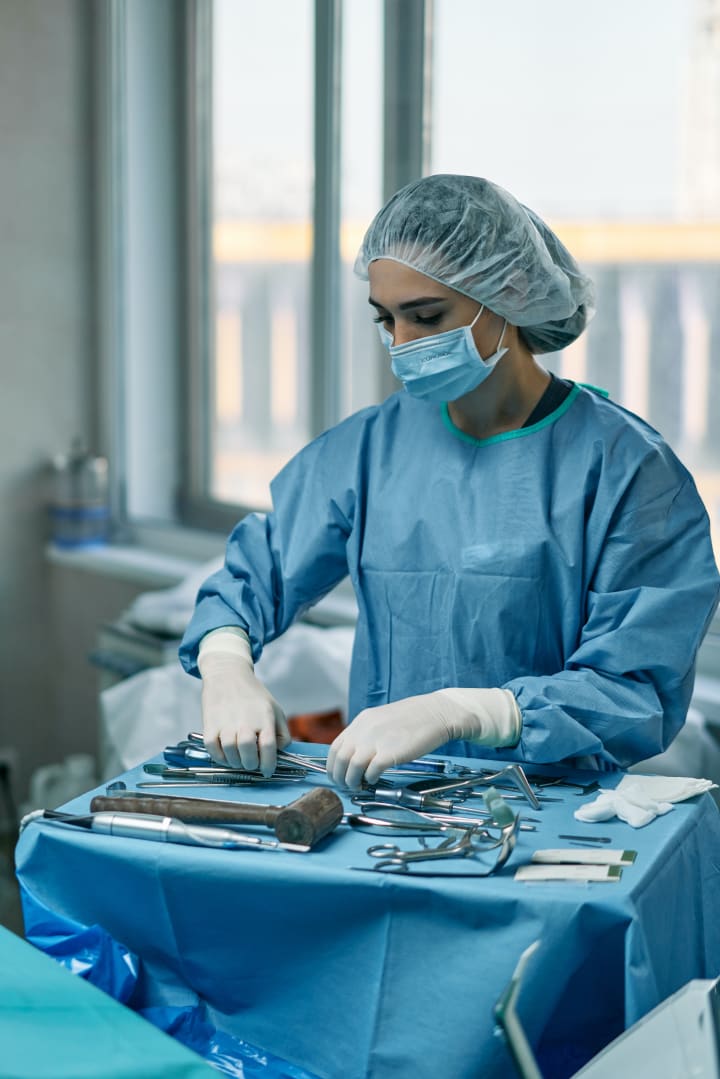 Spoiler alert message (on mute): I cringe to say that I arrived at the selfsame hospital in which I worked.
Me: *A complete and utter sobbing, painful, snotty mess*
The HEMS team doctor informed me she'd have to set my foot and then splint it for transport. There is no way to brace for that type of pain. All the strongest drugs on standby that I'd prepared numerous times, but nevertheless knew nothing could separate the 'excruciating part' from this maneuver.
Loudest-ever decibel screams make me think of rock music.
OH EM GEE! You too?!
Confession: I'm not necessarily a fan of rock beats but I have a rock-ish/rock-esc anthem that suitably dulls all pain (mental, emotional, and physical) that I blatantly disregard the volume safety warnings on. Had I thought to bring my headphones as I rushed out the door that day,
En Vogue's 'Free Your Mind' would have been a welcome alternative blast since everyone in range got subjected to my earsplitting shrieks (not to mention the poor passerby kind enough to wait with me for EMS, who gagged when he inadvertently caught the inside view of my blood and gore anatomy.)
It's that kind of song you need before a battle, or in my case, emergency surgery. Supreme Divas mixed with rock-raucous-kick-ass-rhythms-so-you-don't-feel-a-thing is a true fire combination. I still play it loads and it still is strong analgesia.
Bi-malleolar open fracture. A bone broken in two places and hanging outside your skin, you know, just so you're screeching from the same hymn book as me.
Six weeks non-weight bearing sporting a heavy, clunky, uncomfortable cast, knowing that muscular tissue wastage was inevitable, and having to self-inject Dalteparin into my abdomen every day during pandemic lockdowns gave the phrase time dragging like molasses uphill in winter a whole new dimension.
After umpteen million stitches were removed and the cast finally came off, I was presented with a robotic-looking orthopedic boot to wear for another three weeks.
I stuffed back frustration tears.
I wish I could explain what it does when on the precipice of hopelessness hearing Maxwell sing, "I know you've gotta little life in you yet. I know you've gotta lotta strength left" (no hootin' nanny matter what the blinkin' context is) that allows one half a breath to pick oneself up from underneath the floor.
That Brotha is an emergency crash cart with a plea that cannot be ignored…so I didn't…
…but still hated that boot.
Perhaps one of the biggest challenges I faced (and still do) is impaired circulation. The body doesn't necessarily function the same after major trauma.
Translation in practical realities:
It meant simply sitting for a few minutes results in swelling and immense pain.
It meant simply standing for a few minutes results in swelling and immense pain.
After being a person who could work out whenever and go jogging on a whim, I now became the person who could only lie down and fail repeatedly to find a comfortable position until sleep provided senseless oblivion. My journey involved dark processes too. Sadness had its place here.
Any 'pep talk person' would have been beaten with my crutch. But the soul-soothing vocals of Leela James in 'Don't Speak' facilitates catharsis in a non-skip over silent grief-stricken sojourn…cuz sometimes when you're mega hurting…words don't help, but lyrical gentle resonant touches speak volumes…hold you in all the right spaces.
Dance always soothed and rejuvenated me head-to-toe, but it remained unattainable for well over a year. The first time I had the strength (and
balance) to perform a step to 'Jah Live' by Bob Marley & The Wailers, I epitomized euphoria. The sensation of my heart bursting—overwhelmingly palpable as I thought to myself—
Half a skank, STILL a skank.
When able to maintain respectable, (sensuously wicked) quality-grade hip gyration necessities for Afro B's 'Drogba (Joanna)' in its entirety, this marked a mega milestone between sessions of painstaking physiotherapy
progression. I focused on the exercises, with the well-worn guidance not to overdo it, as it would only prove counterproductive, lengthening an already protracted recovery time. Jamming in my room with the speaker on BOOM-BOOM became more than therapy, especially when I couldn't remain comfortable sitting/standing to write anything with growing discomfort literally nipping at my heel.
I've had setbacks in spades that I don't like to dwell on:-
Raging bone infection scares.
A government public service department that declared me fit to work despite blatant evidence to the contrary.
Repeatedly losing physiotherapy gains when uncontrolled variables surfaced and having to start over from scratch. Again.
Even though I still experience setbacks and high discomfort levels periodically (like right now), I appreciate being able to roll around, forget myself, and burn off stress with some unequivocal soca music. Being in carnival mode is a fete free-for-all that detoxes aggravation from every body system (Yeah, that one too, lols!)
My alter-ego thrives on the naughtiness inherent in many a soca tune as a counterbalance. Reminiscent of those Disney Pixar joke references in movies that only adults understood and flew right over children's heads
Soca overdoses don't leave a pharmaceutical long list of harmful side effects, and I'm certain as a musical genre it has created a whole new category of endorphins all its own. The laughter it generates for me is freely shared with friends in message lyrics that have steeped generations in oral wisdom traditions like those shown in 'Mind My Business' by Dan Evens, Travis World & Patrice Roberts.
I've pulled over in my car without shame to wine to 'Stink Behavior (Fire Water Refix)' as standard because Machel Montano and Teddy Rhymez know that "As soon as we reach—it's fiyaaah," as fire burns off impurities leaving only the strongest elements.
With a body still in healing mode, I will only take in that which makes me stronger.