It doesn't look it today, but Cosmeston Lakes is a reclaimed industrial site. Once, a series of cement quarries dominated what is now a country park. Today, though, it's transformed. No hint of heavy industry remains and on a crisp, bright autumnal morning the birds emerge from the mist rising from the lake. It's a scene to inspire thoughts of Celtic mysticism; Wales is the possible birthplace of King Arthur, and it's not hard to imagine Geoffrey of Monmouth's legends of Ladies in Lakes playing out right here.
That backdrop is also great for a parkrun. Two fairly flat circuits of the western lake, followed by a muddy, undulating plodge through the woodland beyond to complete the second half. After a wet week, the terrain can be testing – trail shoes definitely a plus – but there's no need to fear extravagant elevation gain. Indeed, parts give a sense of what Hamsterley Forest or Chopwell Woods might be like without their precipitous inclines as the trail pounds through deciduous woodland on tracks dappled in the November sun.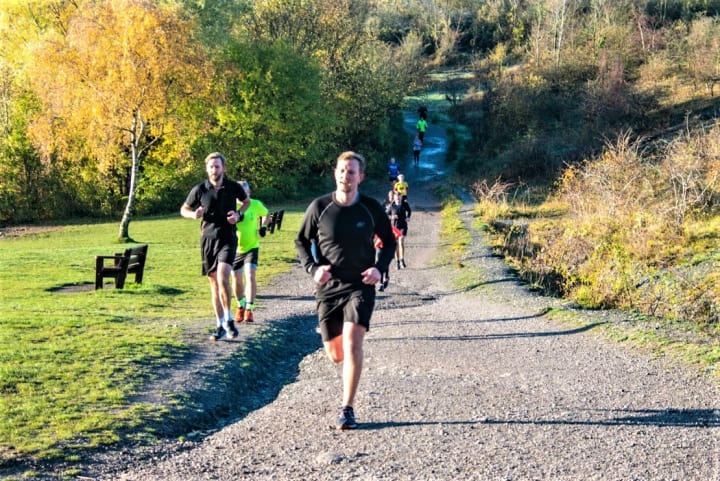 Swans and seagulls are not the only wildlife to be found in the park. The run was held for a moment amid reports of a couple of horses galloping around the course. Reassuringly, or perhaps for some thoroughbreds in the field, disappointingly, there was no sign of them once the parkrunners came under starter's orders.
Instead, we enjoyed a satisfying stretch on a path between the two lakes, enthusiastic encouragement from the marshals and, panting and sweating at the finish line, the option of a hearty cooked breakfast at the park's café. Just don't call it a full English; this is the first time I've been a 'Rhedwyr' (Welsh for 'runner') during my parkrun adventures.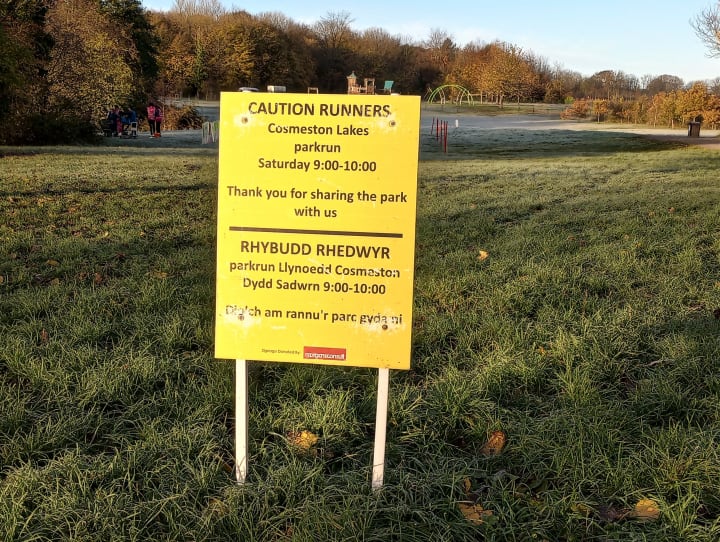 All this nature is slightly surprising, given that we're within walking distance of Penarth, the somewhat chi-chi seaside resort just beyond Cardiff. All the big city attractions are well within striking distance (motorists arriving from the Welsh capital will be pleased to hear there's ample parking on site). Yet again, though, parkrun helps to open up unexpected new parts of our towns and cities. Like so many other routes, this one serves of a quiet reminder of the pace of change in our communities, from industrial blight to new-found nature reserve. Walking back to the B&B ahead of a busy day reporting on the IIHF Continental Cup, the environment's resilience is certainly something to ponder.
The pint
Beer in South Wales is dominated by Brains, the Cardiff-based brewery. It's a long-standing institution, and its Rev. James ruby ale is a treacly delight. Today, though, the craft beer scene is thriving every bit as much as you'd expect in a big, vibrant city. Crafty Devil Brewing runs a pub in Penarth, about a mile and a half from Cosmeston Lakes, with up to eight of its tipples on tap.
And there's much to enjoy among those beers. Highlights include a coffee-scented milk stout with a strong espresso kick, while the range also includes a good variety of IPAs to tantalise the hop-hunters. You can also expect an ever-changing seasonal calendar, with Wales' long-awaited return to the World Cup commemorated on this visit by the Bale Ale, courtesy of the nearby Glamorgan Brewery. There's also a commitment to big-screen TV sport – something of an oddity in the craft beer world, where TVs are not always welcome. A barman wearing an England rugby jersey – just a few hours after Wales suffered a shock defeat at home to Georgia – was an unexpectedly ballsy wardrobe decision.