Some people say not to worry about the air;

Some people never had experience with…air…

– "Air" – Talking Heads
I wonder about what David Byrne and the rest of the band would make of the Sunday that just passed in my adopted hometown/province. Perhaps they would have reminded us that the song was a warning about what can happen when you do not pay attention to what is happening around you:
What is happening to my skin?

Where is that protection that I needed?

Air can hurt you, too.

Air can hurt you, too.
Okay, enough with the lyrics for now. I am very tired after a night spent attempting to sleep and failing miserably at the effort. We were told to keep our windows closed due to the AQI (Air Quality Index) being the worst it has ever been for the city. In fact, it was the worst reading in the world for any city. Sometimes being number one is not a great boast.
But, let me take you through my day, as promised by the title…
*
I woke up ready for my run (always take one day off to get back on the pavement and trails). I knew that there had been some talk about the air quality and the smoke from the forest fires in our province reaching the city, but I thought that the expected rain would come and clear it all away (Saturday was damp and wet). I thought that it would be perfect for the run.
And then I looked outside.
When the sky above you looks like the remains of a sepia print, you know that the air quality must be low. And the announcement of the city having the worst air quality on the entire planet was interesting to see on my cell. But what really got to me was the Weather Channel. Underneath the temperature at the moment (and the 'Feels Like' portion), there was one word:
Smoke
In all the years of having that app, or even looking at or hearing the weather announcements, I have never seen a one-word pronouncement like that. Fog, snow, rain, hail…even smog was acceptable to me (not having a car made me feel less guilty about the last forecast). But…smoke? What did that even mean?
And then I stepped outside.
I did not go for the run. Instead, I cleaned up a little, packed up a bag to go out and get the groceries I really wish I did not need, and then exposed myself to that air.
When your eyes begin to hurt, and you can feel and smell the air around you like you are dealing with the remains of several barbecues that have been abandoned, you know that something different has happened. It was not like reading about it online and shaking your head at another set of human errors. I could barely see the sun and I still felt like I needed…goggles (not my Ray-Bans). And there was one other thing:
Masks.
I took a bus and noted that the wiser citizens of this fair ville had the common sense to keep their N95s and other surgical masks close by. At that point, I was actually worried for my health, more than I had ever been during the Covid panic; more than when I found out several friends who shared the same space now had to take a test for the coronavirus and half came up positive. What was I doing out there?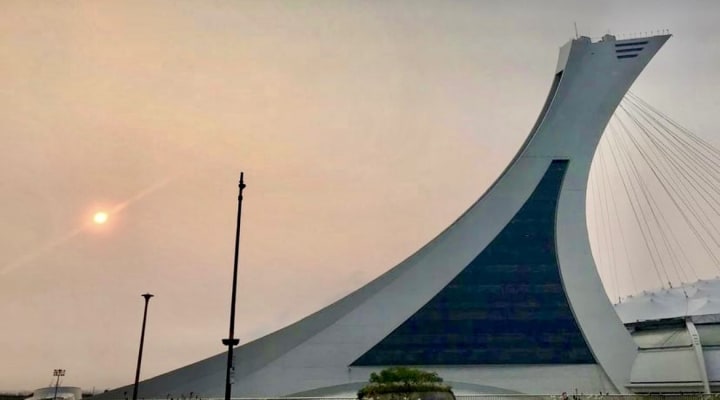 I called home to check on the family in another province (Ontario seemed better off). I called some local relatives and they were well (they were smart enough not to go outside). And there was the friend who planned a trip up to Manitoba by the end of this month who wondered if she could still travel here.
All seemed concerned…as they should be…
So, the air is still very bad and I am still stuck indoors with the windows shut. We are expecting rain, and I cannot wait to get back out there for my run, but I think that we should all be much more concerned that this is now the new norm. Some of the commentary out there now claims that this might be something we will have to deal with every summer.
Great. That song is still playing in my head…
Some people say not to worry about the air;

Some people don't know shit about the…air…

– "Air" (uncensored version)
Anyone with any thoughts about this? I am going to be indoors teaching online today and I hopefully when I do get out, things will be a bit less…sepia.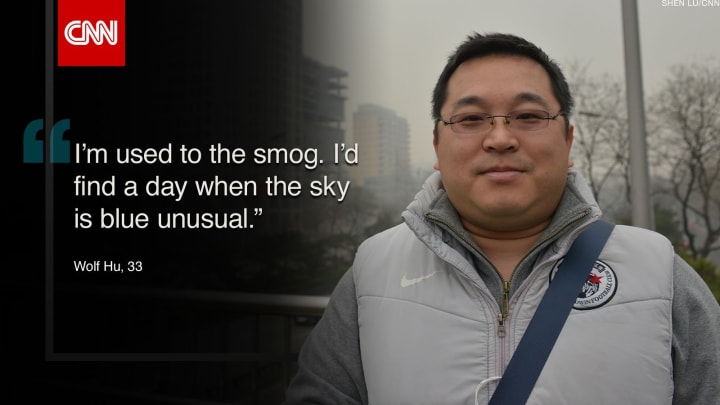 *Thank you for reading!
If you liked this, you can add your Insights, Comment, leave a Heart, Tip, Pledge, or Subscribe. I will appreciate any support you have shown for my work.
You can find more poems, stories, and articles by Kendall Defoe on my Vocal profile. I complain, argue, provoke and create…just like everybody else.
Give it a look…