Emerald Tennis Bracelet Guide
Bracelets are always a good choice when it comes to jewelry. They have been a popular accessory worn by both men and women since ancient times and are perfect for stacking and layering. Among the different styles, tennis bracelets have long been in vogue. While diamond tennis bracelets are quite well-liked, the ones featuring emeralds are no less popular. These bracelets are winning the hearts of jewelry aficionados everywhere!
Whether you are buying it as a birthday gift for someone else or simply treating yourself to a jewelry piece, you can never go wrong with a beautiful emerald tennis bracelet. Is this your first time getting a tennis bracelet? Here's your buying guide for a happy and content experience!
The History of Tennis Bracelet
Originally, tennis bracelets were known as eternity bracelets. However, a single incident completely transformed its name. Are you curious to learn about it?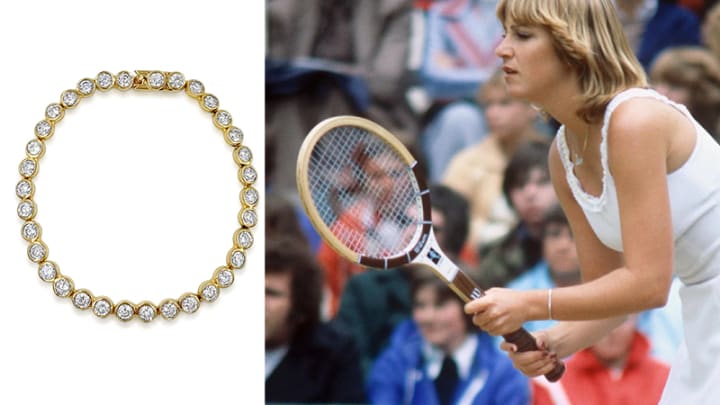 Chris Evert was one of the best professional tennis players worldwide in the 1970s and 1980s. Every game, she could be seen wearing a diamond eternity bracelet on the court. However, her gold and diamond bracelet slipped off her wrist at the 1978 US Open. An iconic moment was caught when Chris stopped playing the game to look for the bracelet. When asked about this, she casually said, "Oh, that was my tennis bracelet." And with that, the term tennis bracelet was born.
Emerald Gemstone
Emerald gets its name from an ancient Greek word, "smaragdus'" which means green. This gemstone is a variety of the mineral Beryl, where traces of vanadium, chromium, and iron are responsible for giving emeralds their lovely green hue.
Emerald has a rating of 7.5 to 8 on the Mohs scale of hardness and is a popular gem choice for jewelry. With proper care, your emerald jewelry can last for ages.
The 55th wedding anniversary is a huge milestone in any couple's life and calls for celebration, and emerald is the traditional gemstone to honor and celebrate this occasion. But that's not all! May-borns are lucky to have such a rare and beautiful gem as their birthstone.
Emerald Tennis Bracelet
Tennis bracelets featuring emerald green stones are becoming increasingly popular. You can choose any metal for the bracelet, as both warm and cool tones complement the lush green hue of the stone. But before you do that, you have to ensure the quality of the gemstones!
The 4 Cs
Cut
You want to make sure that the cut brings out the best in the emerald stone. Round, emerald, and princess cuts are some of the top choices.
Color
Emerald color ranges from light and dark green to yellowish-green and bluish-green. The most coveted shade is an intense bluish-green hue.
Clarity
It is typical for emeralds to have inclusions. However, avoid buying those with too many flaws and imperfections, as it can diminish the strength and clarity of the gemstone.
Carat
Emeralds can be found in various carats and sizes. However, if you are looking for emerald stones for your bracelet, go for the ones with sizes varying between 1.85 mm and 1.95 mm.
Bracelet Size
Use a measuring tape or some other tool to determine what bracelet size would sit comfortably on your wrist. Here's a tip for you! Consider adding 0.5 inches to the length if you prefer your bracelet to be a little looser and lax. However, if you want the bracelet to hug your wrist and have a close-fitting, add 0.25 inches.
Parting Thoughts
Adding a beautiful emerald tennis bracelet to your jewelry collection can never go wrong. Are you too smitten by its beauty? At GemsNY, you can find a stunning collection of bracelets and other gemstone jewelry. Check out the collection today!